Starting in 2015, 100% of your donations go directly to West Africa for WADSO-approved projects. 100% of operating expenses are covered by WADSO Board of Directors and/or donors who specify that their donations be used to cover operating expenses. 100% of WADSO board members donate time and money to WADSO.
WADSO has been a fully accredited 501c3 non-profit organization registered in Colorado since 2001. During 2012-2013, WADSO transitioned from being a Catholic non-profit to being independent. Because WADSO's income and activity was less than $50,000 from that time through June 2014, WADSO filed form 990-N per IRS requirements. WADSO's fiscal year is July 1 – June 31.
This graph illustrates donations received during FY 2015 ( July 1, 2014- June 30, 2015) and where they were designated.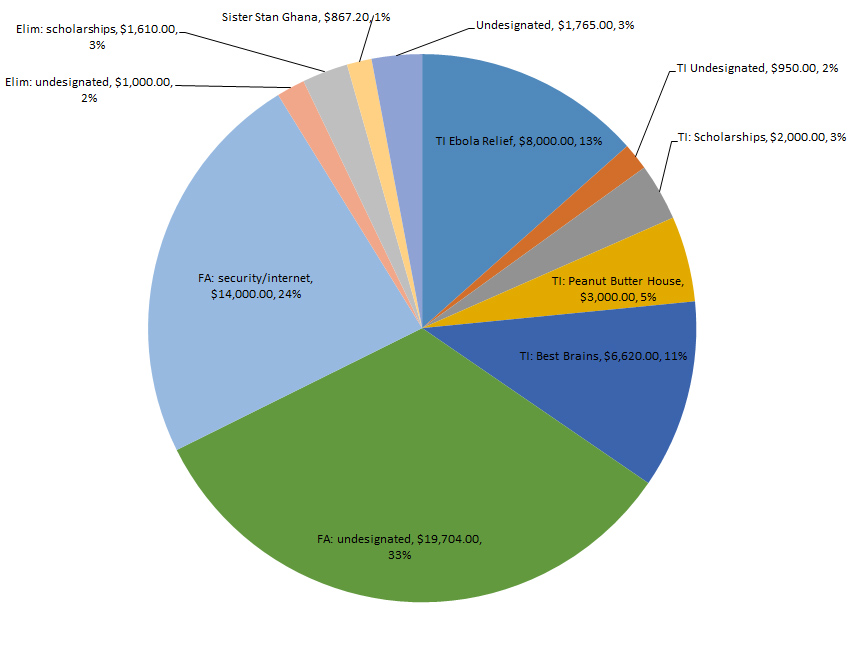 Please contact us if you want more detailed information.
990EZ Return of Organization Exempt from Income Tax 2010
990EZ Return of Organization Exempt from Income Tax 2011